Arc Flash Services , Risk Assessments and Studies
ITU conducts the OSHA required NFPA 70e based arc flash services and Arc Flash Studies and Panel Labeling all across the USA. For over 15 years, ITU has completed thousands of facilities and provided our "No Nonsense" approach to getting our clients up to date and in compliance with these important regulations.
Visit our website at ArcFlashEngineering.com to see more…
Here is a list of just a few of our satisfied Arc Flash program clients: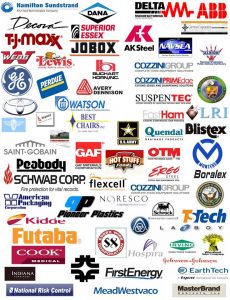 Arc Flash Services
OSHA requires that all employers provide and establish a complete electrical safety program including this arc flash safety program. This includes labeling all required electrical panels in any non-residential facility with the ANSI approved arc flash warning labels. ITU is a nationwide provider of arc flash risk assessments and studies serving clients for over fifteen years. ITU has provided the arc flash study for the OSHA and NIOSH headquarters buildings in Washington DC.
Arc Flash Warning Labels
NEC (National Electrical Code) mandates that hazardous equipment installed or modified after 2002 be required to carry an arc flash warning label. NEC 110.16 specifically mentions "switchboards, panel boards, industrial control panels, and motor control centers that … are likely to require examination, adjustment, servicing, or maintenance while energized."
NFPA 70E 2015 (National Fire Protection Agency) requires labels to contain the following information:
Nominal System Voltage, Arc Flash Boundary, and at least one of the following:
Available incident energy and the corresponding working distance, or the arc flash ppe in Table 130.7(C)(15)(A)(b) or Table 130.7(C)(15)(B) for the equipment, but not both
Minimum arc rating clothing
Site-specific level of PPE
These values are determined by an arc flash risk assessment (available through ITU), and need to be calculated separately for each piece of equipment labeled.
NFPA 70E also states that arc flash warning labels must be the proper size (at least 4"x 6" recommended to meet required font sizes), ANSI Z535 approved, and be placed so as to be visible to personnel before beginning maintenance or inspection.